Crudia zeylanica brought back from extinct to mark National Tree Planting Day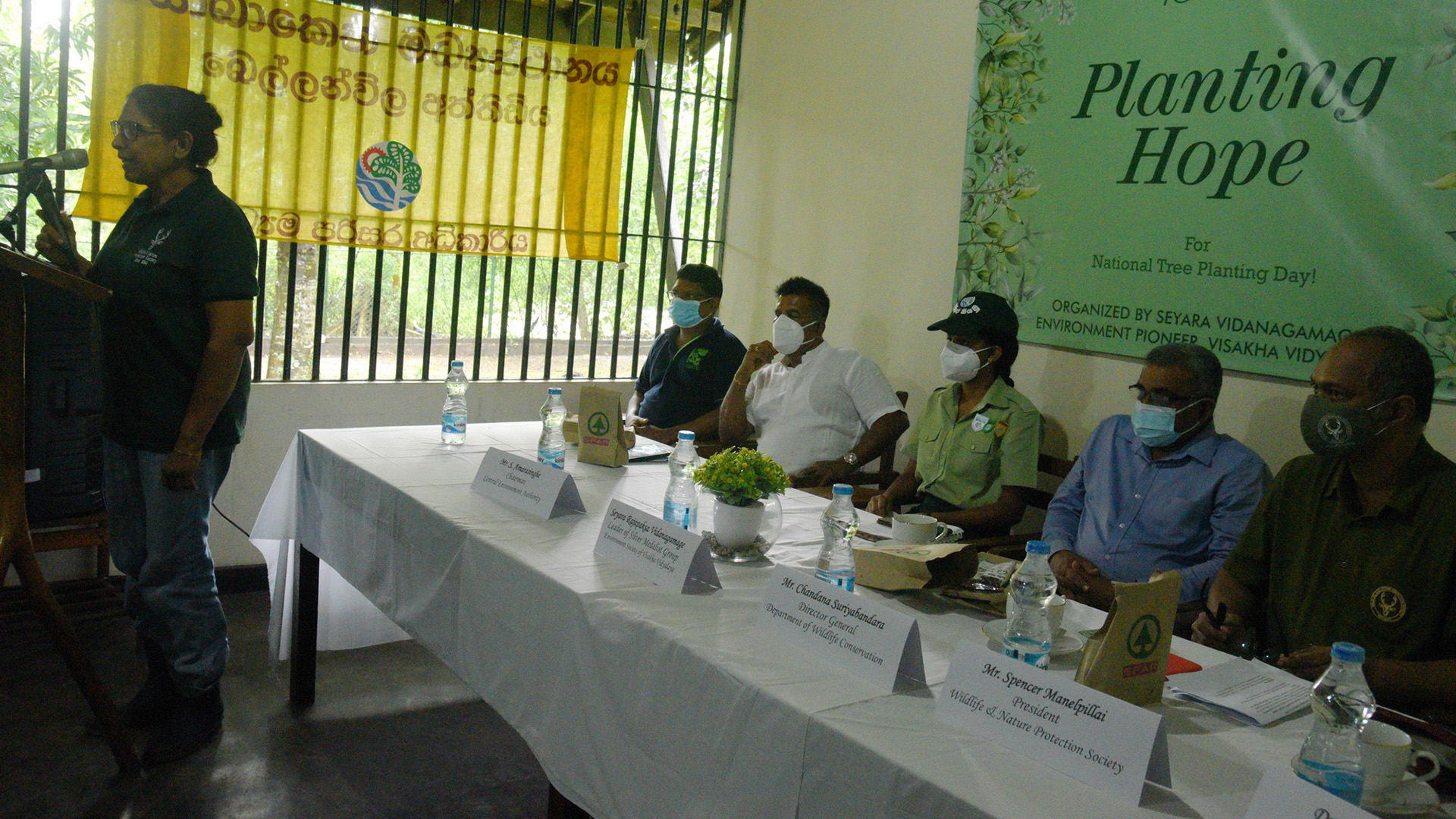 Organised by Wildlife & Nature Protection Society (WNPS)
In celebration of the National Tree Planting Day, Monday 15th November, a tree planting event was conducted on Sunday 14 th November at the Bellanwila-Attidiya Sanctuary, the site of WNPS's 'Green Isle Project'. The initial idea and commitment came from Seyara and her friends from Visakha Vidyalaya to plant 100 trees of recommended species. A highlight of the event was the planting of 5 saplings of the endemic Crudia Zeylanica, which was believed to be extinct in the wild.
The Green Isle Project – restoration of a critically important urban wetland sanctuary


Wildlife & Nature Protection Society (WNPS) launched The Green Isle Project in 2019, to restore a part of the degraded urban wetland of Bellanwila-Attidiya Sanctuary which was gazetted in 1990. According to records the Sanctuary is home to more than 150 species of birds including migratory and endemic, and more than 20 species of mammals. While being a habitat with incredible diversity, it provides critical environment services like flood control, air-purification, water-purification, minimizing impacts from 'urban heat island effect' and helping to make the urban fringes of Colombo cooler to name a few.
The main objective of the Green Isle Project is Habitat Restoration for Species Conservation in the Bellanwila-Attidiya sanctuary, to provide a refuge to the primate species 'Purple Faced Leaf Monkey' or 'Nestor' commonly called Kalu Wandura in Sinhala, which is an endangered endemic species that is fast losing its habitat in the urban and suburban areas of the Western Province.
Through well planned scientific restoration activities, WNPS has enriched this space with over 1,500 scientifically identified plants and yesterday marked a historical tree planting exercise, where for the first time in a tree planting programme, 5 saplings of Crudia zeylanica were planted at the site – a species that has been very much in the news in the recent times. WNPS was happy to be joined by Himesh Jayasinghe at this occasion, who in 2019 rediscovered this tree, after it was declared extinct.
Wetlands play a critical role in environmental and coastal protection and natural urban wetlands are extremely rare. Sadly, there are grave threats to Wetlands in Sri Lanka including habitat loss and exploitation, spread of invasive plant species and encroachment by humans for 'development' amongst other reasons. WNPS is grateful for the continued effort by the Department of Wildlife Conservation (DWC) who are fighting many legal battles to protect this area.
Urgent appeal to provide protection for Bellanwila-Attidiya Sanctuary under the Ramsar Convention
Colombo metropolitan city has been identified as one of the first Ramsar wetland cities, comprising of the following wetlands.
Baddagana wetland
Diyasauru wetland
Heen ela wetland
Kolonnawa wetland
Kotte wetland
Maddinnagoda wetland
Mulleriyawa wetland
Thalangama wetland
WNPS would like to appeal to the authorities to annex the Bellanwila-Attidiya Sanctuary to the Ramsar list, as this will provide this important wetland habitat a much-needed, higher level of protection.
WNPS wishes to commend the students from Visakha Vidyala, for their participation at this occasion and sincerely hope that this event will be an inspiration to more of Sri Lanka's youth to become environmentally conscious and to choose to protect the rich biodiversity of our motherland.
A collaborative effort
WNPS wishes to thank Sri Lanka Land Development Corporation (SLLDC) who provided a heavy-duty Amphibian Dredger to clear the thick vegetation at the initial stages of the Green Isle Project. The project was steered by Professor Lakdas Fernando, who is passionate about restoring the habitat that existed many years ago and WNPS is grateful for his environmental leadership.
The project would not have been possible without our financial partners of the project – Abans PLC and LG. Their partnership with the 'Green Isle' project at the Bellanwila-Attidiya Sanctuary represents Abans' and LG's latest efforts to promote sustainable living in Sri Lanka as a part of their 'LG Loves Green Sri Lanka' campaign. This CSR initiative aims to contribute towards the cause of preservation of Sri Lankan wildlife by transforming the suburban wetland region into a 'green lung'.
WNPS will continue to protect Sri Lanka's precious natural heritage
Founded in 1894, the responsibility of the Wildlife & Nature Protection Society (WNPS) is conservation of wildlife, forests, marine eco-systems as well as endangered species. Their mission is to protect Sri Lanka's rich natural heritage by galvanising policymakers, scientists, activists, nature lovers and the general public; to preserve nature and wildlife through sustained conservation activities built on science, legislation, education and citizen mobilization. Being a 127-year old society, WNPS has been working with many stakeholders including the government, policy makers, researchers, scientists, conservationists, educators, activists and the public, to protect Sri Lanka's rich natural heritage of flora and fauna, for our future generations.
Image
:Dr Nirmali De Silva, WNPS Green Isle Project Chairperson addressing the Gathering, Himesh Dilruwan Jayasinghe Mr. Siripala Amarasinghe, Chairman, Central Environment Authority, Seyara Vidanagamage, student Visaka Vidyalaya, Ranjan Marasinghe, Director Operations, Department of Wildlife Conservation, Spencer Manuelpillai, President, WNPS