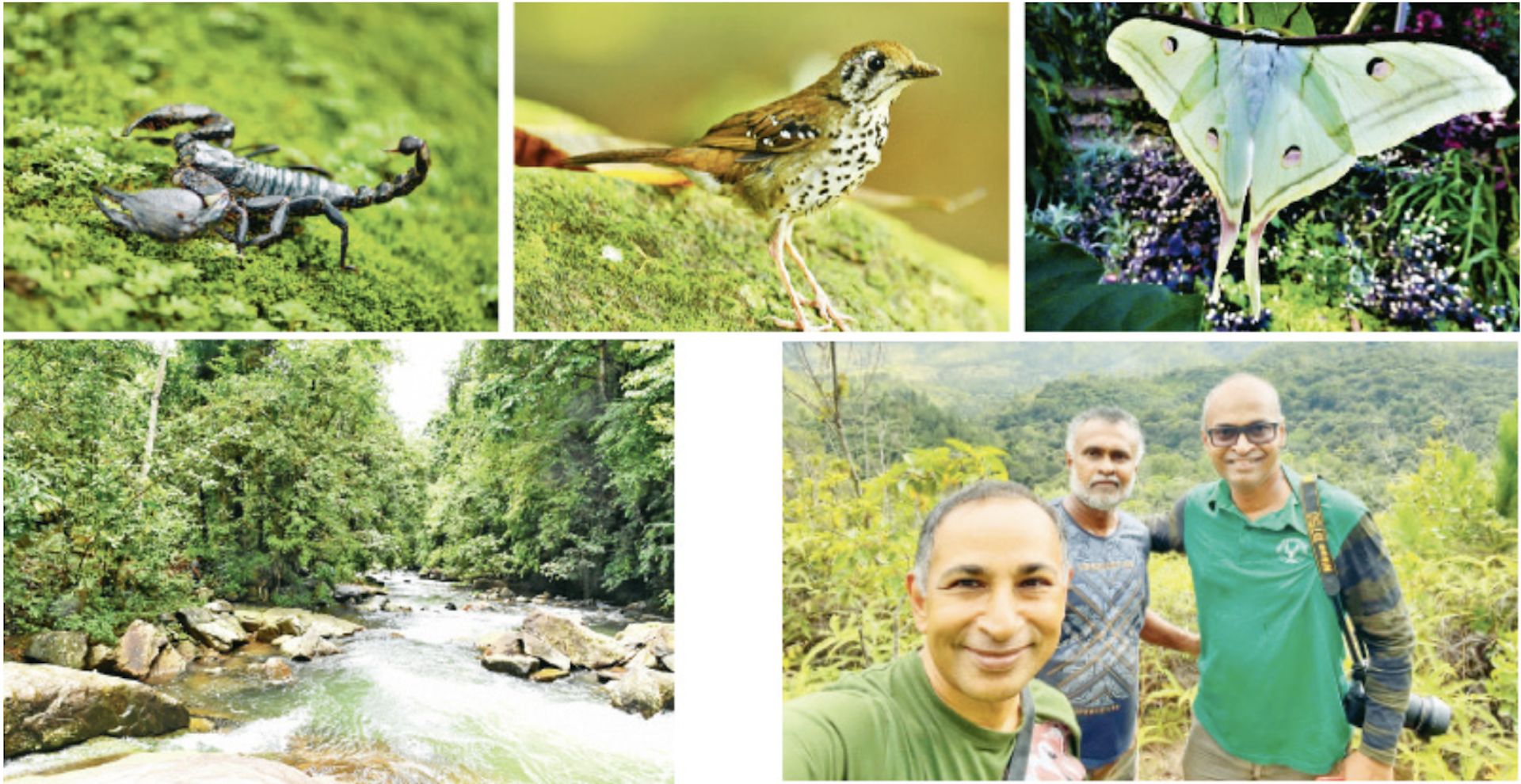 PLANT [Preserving Land and Nature (Guarantee) Pvt. Ltd.] is one of the most ambitious projects undertaken by the Wildlife and Nature Protection Society (WNPS) of Sri Lanka. Focused on the South western region of Sri Lanka, the island's most bio-diverse quarter and home to most of the country's endemic species, PLANT aims to build, "Almost uninterrupted or reasonably connected corridors of protected natural spaces and forest ecosystems," linking Sri Lanka's remaining forests and protected reserves across the land, allowing it to heal and let nature take its course.
"The conversation about PLANT began when a food scientist who was aggrieved by the on-going ecological destruction in the country, shared his willingness to donate his land to the WNPS for them to restore it and to help preserve it for the environment," shared Chairman of PLANT and former President of the WNPS Sriyan de Silva Wijeyeratne. "The reality was that we weren't structured adequately to give justice to this sentiment, but we realised that this was something that the WNPS should do," he explained.
"A lot of energy and time went into figuring out how best we should get about this process," Wijeyeratne continued, sharing that after extensive research of similar projects undertaken around the world, the WNPS was able to formulate a working model that suited their goals and objectives in conservation. Private conservation has many successful examples overseas, and Wijeyeratne added that their own experience in similar conservation efforts such as the ROAR (Restoration of a Rainforest) Project played a significant part in adding confidence to the development of PLANT ambitions as well.


PLANT's unique strategy
Ceylon Today learnt that PLANT's strategy for conserving habitat areas focuses on a not-for-profit motive that hinges upon building collaborations among partners while functioning as the connective tissue that brings like-minded individuals and entities together. "There are people who gift land for religious purposes and others who may have a plot of land that they have no real use for. We wondered, 'What if those lands were converted into spaces for conservation?'" Wijeyeratne explained.
Through a memorandum of understanding, landowners can commit land to PLANT's vision, either completely, or even partially. "We have some landowners who have agriculture or even tourism-related businesses operating on the premises, but a significant portion of the land is set aside specifically for conservation and nothing else, and won't be sold or used for any other purposes, as per a commitment they make. We then invest to nurture those areas into high-quality conserved forests along with them," elaborated Wijeyeratne. PLANT also raises funds to secure land blocks in its name, for permanent conservation purposes.


Creating the 'Emerald Trails'
PLANT's ambitious project aims to connect forested and protected land in Sri Lanka's South-western quarter through what they call, the 'Emerald Trails.' This, in turn, is predicted to help preserve dwindling habitat areas in one of the island's most biodiversity-rich regions. "This is where most of the country's endemic species which are so precious to Sri Lanka live. With Sri Lanka being a small island, where land is scarce, we weren't going to be able to significantly grow the land available for conservation, but we could make a significant impact by connecting the already protected spaces and creating a much larger footprint for range-restricted species to move around in."
With more room to flourish and with a concept that is a first for Sri Lanka, understandably, seeking partners for such a bold and ambitious undertaking had its challenges. However, credibility did come with partnerships with the likes of Rainforest Trust and Quick Response Fund from USA, partnering with PLANT. "Both partners have helped conserve millions of acres of habitat around the world, and their confidence in what we wanted to do was a massive strength. They were the first big donors who gave us the money to acquire our first land. To get a thumbs up from partners like them meant a lot to us, and perhaps was even a reassurance to other donors that they too can have confidence in this effort," Wijeyeratne postulated.
Reaching out to corporate entities and high net-worth individuals, Wijeyeratne observes that the businesses were the most receptive to PLANT's revolutionary idea. This includes the likes of Kalè Teas, Sarvodaya and a host of other partners. The visionary management of Hayleys Plantations committed over 2,500 acres of land for conservation. As such, PLANT's aspiration is experiencing rapid growth and progress.
"At the start, we aimed to build to maybe 1,000 acres in about a decade, which was a big vision at that point. The journey is still evolving, but is it evolving rapidly, and we've elevated our functions to a different level thanks to the confidence placed on WNPS and PLANT by so many partners."


Managing PLANT
Ceylon Today learnt that PLANT'S operations span far beyond simply partnering with landowners. Other partners provide technical expertise and support the movement by providing access to plant nurseries. Even the scientific community is involved, in conducting biodiversity research in the protected areas within PLANT. In addition to the two elements of Science and Fieldwork, Conservation Management is the critical 'third leg' of the stool in the conservation movement, creating a management solution that brings many parties together, with broad ambitions and innovative approaches. This work has now become a full-time commitment for Wijeyeratne, who has left the corporate world to fully commit to making PLANT's vision a reality by building a solid foundation for the initiative.
"I'm dedicating a large portion of my time to conservation efforts now, and that will be the way forward for the next few years. We also have a fantastic group of volunteers who are organised into small teams in various regions. We have very talented and competent people who have put their hands up and have risen to the occasion. This is backed by fantastic support from the entire WNPS Leadership and Committee along with our Head office team. We have also just hired some of our first full-time staff. Multiple Partners play different roles and several donors have helped us along. Youthful volunteers keep joining our fieldwork often; all that is the real secret behind this momentum," he says.
"It's not easy, and as more partners join, we want to do more, and our ambitions are growing, but there are many other challenges that need to be addressed," Wijeyeratne shared, noting that funding is a major part of it.
"Our operating costs have risen greatly as the number of locations has grown. We are also doing more biodiversity studies and more and more in those locations, and we've committed that this is the value that we are bringing to the protected land. We also address needs for replanting, creating new forest cover and more. We've already made a lot of progress and discovered many interesting things including the presence of large numbers of threatened and endemic species, but we need more funding to continue our fieldwork. We hope to create several kilometres of linking forest in the coming year as part of our work",
he said.


A people's effort
Wijeyeratne observes that PLANT is more of a social revolution than anything else. "It comes from an intrinsic sentiment of entities wanting to give and do, and make strong proactive interventions, rather than talk numbers with measured investments when it comes to reducing emissions, counting carbon credits and planning carbon offsetting." He notes this is most evident in the contributions of some individuals who saw the value that PLANT brings to conservation and the nation.
Wijeyeratne revealed to Ceylon Today that the first individual who committed to PLANT's cause donated 20 acres of his land to PLANT from a location on the Bandaragama – Bolgoda lakeside, which is land which has very high real-estate value. Many other individuals have since partnered differently with PLANT, believing in the value of conservation.
"It's interesting to me that the people who are being moved by what PLANT is doing and hence contributing from the heart to us, are not people who are living in abundance, but are people who want to give because they want to conserve nature for the future generation, and they are willing to sacrifice and gift some of their private lands for this purpose," he added. It is those people who inspire us to keep going with our mission. Wijeyeratne remains hopeful that, as in other parts of the world, a few very high net-worth individuals will step forward to provide serious funding for this initiative.


Supporting state efforts
When inquired by Ceylon Today on how PLANT's efforts fit in with the State's efforts at conservation, Wijeyeratne explained that whilst PLANT is a privately driven initiative, it will complement a lot of the conservation work that the State is doing. "If the state is protecting two forest patches, and somebody is creating conserved protected forests that connect them in between, that is wonderful news because it would prevent alternate development from dominating and dividing the landscape and creating two alienated forest areas. Having connectivity is of extremely high value for many species and our properties are refuge to hundreds of critically-endangered species already. The project also increased the overall landmass set aside for conservation in the country.
"In any way you look at it, PLANT adds value to the country's conservation efforts. Despite the state having many passionate and dedicated individuals doing amazing work, they are extremely stretched in their ability to prevent the massive forest cover losses we keep seeing. What we do is complementary to those efforts. Our work is also diversifying the conservation efforts in the country by not putting all the eggs in one basket and relying on the State alone to save the multitude of amazing species which make Sri Lanka their home."


There is much to be done
PLANT's story has truly just begun and Ceylon Today looks forward to sharing more about the powerful conservation efforts that the WNPS and PLANT are doing, working with the people of Sri Lanka. "We are looking at this at a national level, with scale, and want to be a national orchestrator of this social conservation revolution and will bring more parties onto the conservation network, to create a powerful, unified movement which is taking conservation efforts in Sri Lanka forward, despite the odds. We believe we can turn the tide in favour of conservation through these efforts" he added.
The work of WNPS PLANT can be seen on plantsl.org.

by Shanuka Kadupitiyage
This. article was published in ceylontoday.lk on the 1st of July 2023